CircuScape Elfs of the North Pole, Unite!
Wednesday December 30th 7:00pm at Wellfleet Preservation Hall
Payomet CircusCape presents:
CIRCUS, INC.
What happens when the factory is a circus and the workers want to feed the boss to the lions?
A one-hour CIRCUS SHOW by  some of the some of the top circus artists in the Northeast!
In conjunction with Payomet's Children's Circus Arts Classes, our talented instructors will be showcasing their skills on Wednesday December 30th at Wellfleet Preservation Hall with an exciting conceptual circus arts show featuring juggling, acrobatics, hooping, aerial arts and physical comedy.
Adults $15, Children under 16 FREE
 While conducting research for his Master's Thesis in Theatre and Communication   at Wake Forest University, Jay came across several references to The Ringling Bros. and Barnum & Bailey Circus Clown College.  Professors and directors had always commented that Jay "fell down well", so he took a chance and was happy to be accepted to the Clown College Class of 1989.  This led to a two year stint as a Clown on The Greatest Show on Earth, touring the nation and performing for massive audiences beneath the Big Top.  Following his dreams to Las Vegas, Nevada, Jay performed for two years in "The Three Stooges, Live!", as Moe, Larry, and with the help of a fat suit, even Curly! Jay was also lucky enough to be asked to teach at the Clown College for the last five years of its operation--slapstick technique and character development.  What an honor! 
 Along the way, Jay met and fell in love with a funny, beautiful Clown, Kristin, and they got married, with lots of Clowns and Stooges in attendance.  Life on the road beckoned, and the couple ended up in Tokyo, Japan, performing for the Kinoshita Circus, with their 8 month old daughter, Karen, along for the ride!  She was a real trooper!  The Ringling Bros. called again, and this time, Jay, Kristin and Karen went out on the road as a family, with Jay taking the position of "Boss Clown" for the Clown Alley.  About a year went by, and Nicholas, their son, was born, as they say,  with "sawdust in his veins."  Being raised in Clown Alley, amid 18 wacky funsters had a huge impact on the kids--one that may not be fully realized until they are much older, and throwing pies for themselves!
 As the kids grew, Jay and Kristin opted to give them a "normal" life, and left the road, relocating to Myrtle Beach, SC, where they started their own Clown troupe, "The Seaside Clowns", bringing together friends and funny people to perform daily, up and down the Grand Strand, most notably at the historic Myrtle Beach Pavilion, a 60 year old beach-front amusement park.
 Jay is also a proud member of the faculty of the NY Goofs Ultimate Clown School, teaching makeup design and application, as well as classic Circus Clown gags and routines.  Jay has also had occasion to perform with the Goofs in New York and in various other locations, as well as performing in Liu Zhou and Hang Zhou, China, with the AEMI International Clown Festivals.  And, Jay is thrilled to be the Clown Coach for Circus Smirkus, Vermont's International Award Winning Youth Circus, touring New England all summer.
 Jay is currently the team Supervisor for The Big Apple Circus Clown Care Unit, at  Boston Children's Hospital, providing room to room visitation and humor therapy, and proving that "laughter really is the best medicine" for the patients, their families and the hospital staff.  Bringing the Clown into the hospital setting, and using his "bag of tricks" to help people through very difficult times, is a challenge and a joy.
 For 25 years, Jay has been very happy to make his living playing the fool.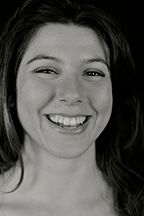 Gabrielle 'Teddy" ment (co-founder of TEDDY & ELEANOR, choreographer, clown, aerialist, circus artist) started doing circus in 2007 as a youth troupe member in the Amazing Grace Circus in Nyack, New York, where she gained a foundation in clowning and other circus disciplines. In 2012 she started studying at the New England Center for Circus Arts and in 2014 graduated from their Intensive Professional Training Program. Ment has performed for the past five years nationally in New England, the Midwest and the Tristate area. Internationally she has studied circus and performed in Toulouse, France and Nairobi, Kenya. When not hanging upside-down from her toes, Teddy enjoys hiking, gardening, surfing and being in the great outdoors. Unsurprisingly, she is now attending Oberlin College in Ohio to study Environmental Studies and Dance!
 Eleanor Getz (choreographer, dancer, aerialist, circus artist) began her movement training at Canyon Concert Ballet in Fort Collins, Colorado, where she became a company member in 2007. She trained at the Kansas City Ballet summer intensive, Snowy Range Dance Festival, the Richmond Ballet Summer Intensive, and the American Dance Festival, and earned her BFA in Modern Dance and Choreography in 2012 from Virginia Commonwealth University (VCU) in Richmond, Virginia. She discovered aerials in 2012 and trained with Host of Sparrows Aerial Dance in Richmond. Following college, Eleanor completed the Frequent Flyers Aerial Dance Professional Training Program in Boulder, Colorado, earning a certification in aerial dance performance. With her peers from the FFP Professional Training Program, Eleanor established Rabble Dance Collective in 2013. She currently trains and performs at the New England Center for Circus Arts (NECCA), in Brattleboro, Vermont, where she completed the Intensive Year Program in June of 2014 and will complete the Professional Track program in May of 2015. Eleanor is one half of the acrobatic performing duo, Teddy & Eleanor and she currently specializes in performing and teaching the lyra, trapeze, stilting and partner acrobatics.
Janoah "anygoodjokes" Bailin learned juggling as a bored ten-year-old trapped at summercamp. He trained (aka fooled around) with the Suspenders Juggling Troupe of Falmouth, practiced obsessively in his back yard, then toured New England with Circus Smirkus. He recently graduated College of the Atlantic in Maine, studying the myriad variations onperformance: theatre, movement, objects, puppets, film, literature, live, dead, etc. Janoah is currently a juggler and unicyclist for Cape area festivals and parades.
Cape Cod native Trevor Pearson performs and teaches juggling throughout the Northeaster U.S. and occasionally beyond.  Trevor's interactive performances focus on such topics as balancing things on one's foot, color coordinated pattern sequencing, what else a plunger is for, and upside down.
Thank You to Our Sponsors